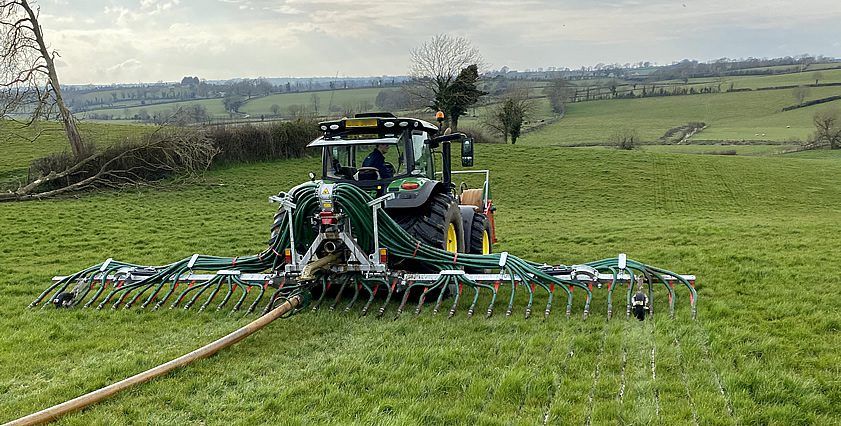 Countryside Productivity Small Grant Scheme
It's finally here!
After a long wait full details of round 3 of the Countryside Productivity Grant Scheme were announced earlier this week. Livestock, Dairy, Arable and Horticultural farmers can now apply for funding grants of up to 40% of the Eligible items and specification costs listed. The minimum funding available is from £3,000 to a maximum of £12,000. The standard cost for each item is the actual fixed price which the government will pay the grant towards.
The idea behind this scheme is to help financially support technical efficiency improvements, improve animal health and wealth fare and nutrient management in the agricultural industry.
This is great news for farming and just in time for the upcoming spreading season.
As an example, if the standard cost of a brand new trailing shoe is £21,500,
even if the actual amount you pay is only £21,000, you will receive 40% of £21,500!
The Countryside Productivity Grant Scheme covers many areas and we are suppliers for several brands with equipment meeting the eligibility criteria, such as trailing shoes and dribble bars from SlurryKat to variable rate controllers for fertiliser spreaders from KRM. For a full list of the brands we love click here!
Key points to remember
By midnight on 31 March 2021, you must have:
bought all the items
paid for in full (payment must have left your bank account)
installed all items applied for, and
submitted a single claim
All items bought must meet the minimum specifications shown in Annex 3. Only brand new items can be funded through the CPSG. Ex-demo, second hand and 'try before you buy' items are not eligible for this scheme. You cannot use part exchange of goods or invoice credits as evidence of payment. Payment for goods claimed under this scheme must be made in full for the value of the goods shown on the invoice.
For further information, full eligibility criteria and how to claim please see the dedicated Countryside Productivity Grant Scheme section on the gov.uk website by clicking here.
Please contact your Redlynch Area Sales Manager or email sales@redlynchtractors.co.uk to discuss your requirements, but be quick all claims should be submitted by the 4th November 2020!